I have always said I was bold, independent and spoke my mind on issues that make you squirm in your chair in discomfort, but college student Lily Myers really does exhibit what SGS is all about—she doesn't just smash girl stereotypes into smithereens she slams them, poetry style.
In her piece she tackles body image and the destruction a negative image can do to the psyche and plays the lead role in what space, as women, we "deserve to occupy." Men are taught to grow out (body, voice, demeanor) and women are too often taught to grow in (body, voice, demeanor.)
I like charts and I like visuals…
So here's a comparison table for those visual learners out there.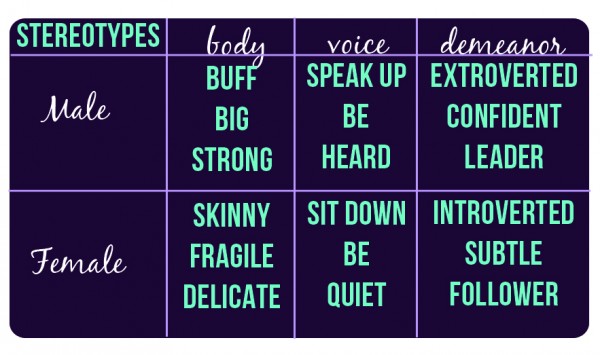 What adjectives would you add to the above chart? (Let me know in the comments)
These stereotypes persist because we let them. Simple as that, right? Welllll sorrtaaa kinnndaaa. We should be able to red light them, BUT we often don't even realize we're stereotyping! We can't allow these stereotypes to continue to weasel their way into our culture through modeled habits that slowly and often unconsciously leach into our own.
"Sit across the table from someone long enough and you pick up their habits."-Lily Myers
We have to instead be mindful. Lily's piece confronts today's culture and the different sets of standards for men and women (see handy dandy chart above) and how we as friends, mothers, aunts, sisters really do play a vital role in the development of young girls around us! (Same goes for the guy side.) We have to be mindful of the treatment we are giving ourselves in the presence of others. If we are indeed more conscious the toxic body hate culture cycle will diminish and be nothing more than a fleck of light in culture. It matters because the little ones, they're watching (link to dancers).

Question: What habits have you picked up from others around you? Good, Bad, Funny, Ugly. We love 'em all around these shattery glass parts. Leave a comment below!

This entry was posted in