I've always loved P!nk because her music is powerful, her performances are full of beautiful, dare devil aerial antics and her bold girl power prowess knows no bounds. So when twitter gave her ish for looking voluptuous in a black dress while attending a cancer benefit rather than, you know, giving focus to the cause at hand: cancer. She responded to the hate in a way more of us should—she spoke up! Ohhh girl, did she!
Her response is "f*&kin' perfect," to quote one of her song titles.
"I can see that some of you are concerned about me from your comments about my weight," she wrote in a tweet. "You're referring to the pictures of me from last night's cancer benefit that I attended to support my dear friend Dr. Maggie DiNome. She was given the Duke Award for her tireless efforts and stellar contributions to the eradication of cancer. But unfortunately, my weight seems much more important to some of you."
— P!nk (@Pink) April 13, 2015
She continued…
"While I admit that the dress didn't photograph as well as it did in my kitchen, I will also admit that I felt very pretty," she continued. "In fact, I feel beautiful."
It's so easy to be hateful behind a keyboard, but we have to remember it's just as easy to overcome the hate and be an example and voice of many too. So just when I thought P!nk was all </endrant> she replied to many of her fans tweets and shared them making me feel super OK with consuming that personal pizza at lunch. Dawwww I heart my body even more now. Curvalicious, FTW.
Ugh I love you and I love this picture xo https://t.co/vvUhNL99ZA

— P!nk (@Pink) April 13, 2015
You two are gorgeous. This pic makes me so happy https://t.co/qhXjtdzKCr

— P!nk (@Pink) April 13, 2015

And my personal fav…because it really is all about balance
That's called balance! Happy birthday! https://t.co/PQp7ClklMk

— P!nk (@Pink) April 13, 2015
P!nk concluded with, "So, my good and concerned peoples, please don't worry about me. I'm not worried about me. And I'm not worried about you either," P!nk concluded. "I am perfectly fine, perfectly happy, and my healthy, voluptuous and crazy strong body is having some much deserved time off."
So instead of offering
these compliments
or being too hard on yourself, cut yourself a break would ya (P!nk did!) , because you my dear, are BE.YOU.tiful!
This entry was posted in
Kid culture is a relatively new(ish) phenomena defined by adults, (yup, guilty) who often have a clouded perspective of today's youth. Adults view kids through the lens of moral panic. A moral panic occurs "when the official or press reaction to a deviant social or cultural phenomenon is 'out of all proportion' to the actual threat offered" (Mazzarella, 2007, 48). In addition, it is when a group is defined as a threat to the values of society and interests (Mazzarella, 2007). The purpose of the next 4 blog posts is to define how…
1) parents, 2) marketers, 3) journalists/documentarians, and 4) researchers aid in the development of the moral panic between adult culture and kid culture.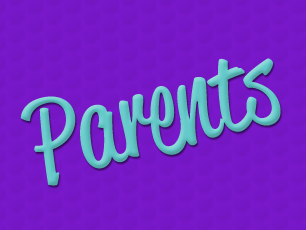 Distribution of media like CDs and DVDs has led to parents forming groups against these dispersal tactics. Parents' Music Resource Center (PMRC) came on the scene in 1985, started by high profiled wives such as Tipper Gore, (ex)wife of then-senator Al Gore. Tipper Gore was shocked when she first heard the Prince song "Darling Nikki," because the song references masturbation (Mazzarella, 2007). Though at the time the PMRC aimed to require all music, though predominately focused on heavy metal rock, to have a warning label if it contained explicit content inappropriate for children. Their passion spread to the Recording Industry Association of America (RIAA). In 1990 the RIAA adopted the "Parental Advisory/Explicit Lyrics" label that we now see when visiting record stores (Mazzarella, 2007). Though the high profiled wives and mothers were able to have their voices heard around the country, most parents don't have the luxury. And with the popularity of online music sales through iTunes, Spotify, etc. the world of music (TV, movies, etc) is WIDE open for kids with a computer or smartphone and a wifi connection, see: EVERY kid, has access to any and all music.  

Parents are forced to create their own rules for use in their household from music and television to the Internet. "One approach is through 'restrictive mediation,' a practice in which parents make rules about amount or time of viewing allowed, define forbidden content, and use media as part of a reward or punishment system" (Bachen, 2007, 242). The younger the child the more rules are placed on when, where and for how long use can take place. Parents of adolescents may lower their guard when it comes to displaying their favorite media characters, simply because they have more control over it in the home. By letting their children take part in "adolescent room culture," the bedroom becomes a place where he or she "engage in identity work and investigate their future possibilities through media," (Fisherkeller, 2007, 229). However, as parents become more familiar with the medium, particularly the Internet, rules may evolve (Bachen, 2007).

"Parents are deeply fearful about the World Wide Web's influence on their children, according to the Annenberg Public Policy Center's national survey of parents in computer households in the United States" (Aikat, 2005, 3). The Internet is a main concern because of the wide-range of freedom it gives children (Stern and Willis, 2007). Yet another reason why Facebook should have never left their college niche. "Teens have more autonomy to do, say and go where they wish than they have had historically" (Stern and Willis, 2007, 217). The three ways teenagers use the Internet is for communication, information seeking, and content creation. They communicate with their friends through Instant Messaging, (awww RIP, AIM) Facebook Messaging and Text Messaging with the phones they now have and the ripe age of eight. Damn you societal norms. They also use the Internet to seek information for school assignments and often complete those assignments now completely online. Now, more popular than ever kids are posting photos via Instagram, tweeting tweets they shouldn't be during school hours and maybe writing the occasional blog post. Despite these uses parents are still concerned with access to "inappropriate" content.

Having the world's information at the thumbs of your kids is scary sure with websites that have content about "eating disorders, bomb making, alcohol, smoking, and most of all, pornography," parents are concerned teens who are seeking information about these topics will find an overload of information easily and those teens not seeking this type of information may accidently stumble upon it (Stern and Willis, 2007, 218; Aikat, 2005). For example, whitehouse.gov is the official website of the government establishment, but an unknowing teen may accidently type in the dot com (.com) address only to find explicit content. Note: It's no longer an explicit site like it was when I was in sixth grade, but for the sake of argument…that example will do. Right? thanks.

But I have also found in recent talks with parents (disclaimer: I'm not a parent) that the "everybody's-doing-it syndrome" is taking over. And as a parent it's getting more difficult to just say "no" to requests like "everyone has a cellphone, mom" which can quickly elaborate to "everyone has a Facebook, Twitter, Instagram, insert all the social networking tools here."
So as a parent…what do you do? Do you give in? What age is an appropriate age to allow your son or daughter to handle the responsibility of a cellphone and online communications. Parents, I want to hear from you! Leave a comment!

This entry was posted in