It's been a minute since I've posted anything in this wee blog. But it's no secret that I'm a feminist and one that will not allow the most powerful public office or anyone for that matter, stifle my rights. Because as I saw on hundreds of signs yesterday in the thick of the Women's March on Washington, women's rights are human rights.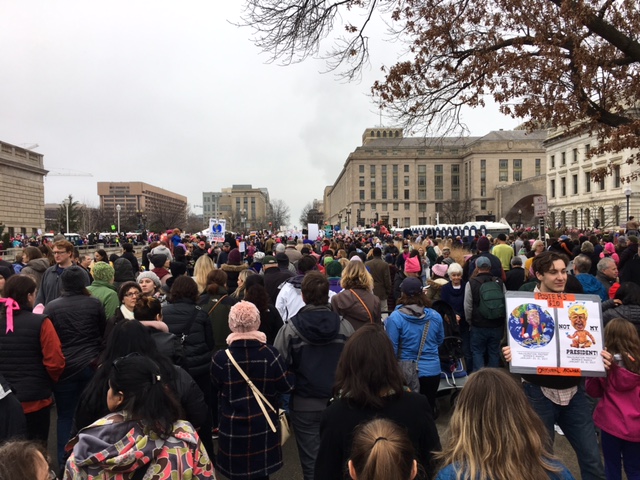 I'm no stranger to participating in a rally, march or protest. In fact, I grew up in a union household where public demonstrations and standing up for what you believed in was common place. And I knew that no matter what I was planning to do January 21, 2017, I had to be there to witness history…errr Herstory… alongside some of my greatest girlfriends.
Of course there were challenges, the metro stop we arrived at around 8:30 a.m. had to off load two jammed packed trains full of proud "pussy hat" wearing women and men. Naturally in this day of technology we proceeded to tweet our concerns and fare check how much an Uber ride would be to Old Ebbitt Grill where the group of us were to fuel up before stepping out. Needless to say, an Uber was starting at around $42 (and that didn't include traffic) so we used our ability to walk and hoofed it about four or so miles from Arlington to the restaurant that is just steps from The White House.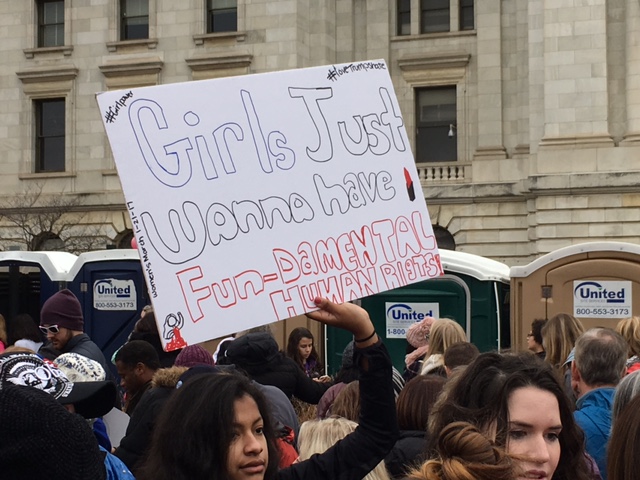 By 11 a.m. I already had over 15,000 steps logged on my FitBit and was in dire need of some food fuel (that might have included a grapefruit mimosa, because provisions). During the lengthy walk, we talked about why we were marching, politics and how we couldn't wait to share the historical day with our future children.
After grubbing, we ignored our already barking feet, and trekked to where all the action was.
IT. WAS. PACKED.
While bobbing and weaving through the crowd, I began to notice how my initial fears of safety subsided. In a crowd of 500,000+ people, I felt safe, I felt that everyone there was fired up and ready to go for what they deemed to be their "why" of being present that surrounded a commonality of human rights.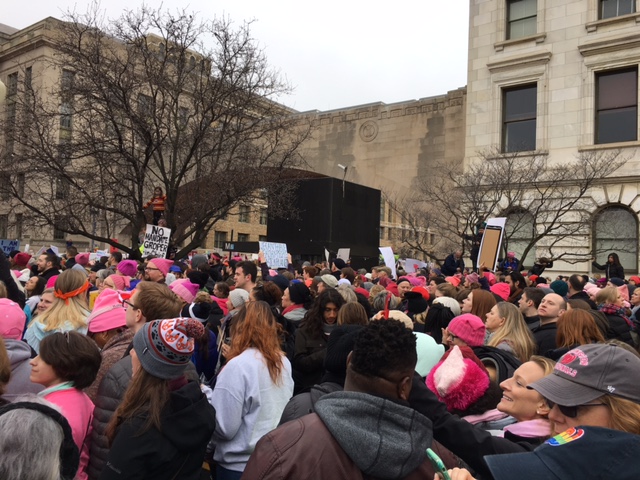 And that's what I think needs to be addressed — the why. There were two sides of the "why" coin I witnessed during the march, those that were protesting Trump and his hateful campaign rhetoric and those who were marching for women's rights. And true, sometimes the two did overlap.
For me (as you'll see in the quick synopsis brought to you by my Snapchat story below) I was there to protect my rights as a woman, rights that have been fought for by those "dope ass females" who have come before me. I marched for my fundamental rights to own my body and not have the government tell me what I can and cannot to do with it. My body, my choice on all accounts. Period. The fact that the government would rather regulate women's bodies than guns is a reality that I won't be able to understand (and is a whole 'nother topic for a whole 'nother blog).
Other folks in attendance were marching against Trump's hateful rhetoric and unqualified Cabinet picks especially regarding education, climate change and energy. While others I believe were just there to peacefully protest Trump and everything he stands for. Respect to those folks as well.

We heard from a passerby the logistics of the march route, so we relocated to the corner of 14th and Jefferson St. right in front of the Washington Monument and lined the curb awaiting the tidal wave of pink to break over the hill. The five of us linked arms and spilled into the street with many others who flooded the sidewalk to join this monumental movement and become a part of history. Chants immediately began, "tell me what democracy looks like, this is what democracy looks like" and probably my favorite chant of the entire day, "we need a leader, not a creepy tweeter." How true that is.

I was proud to march shoulder-to-shoulder with my girlfriends who, for the first time, took to the streets to be a part of a public demonstration. We cheered for the solidarity, chanted for change and giggled at the creativity that existed on many signs held high during our time downtown.


Though I can't quite imbue what it was like to actually be there —  an absolute surreal feeling — the video shows my slice of the experience in a more zoomed in, woman on the ground approach. This wasn't just a march that was happening in D.C., this was a worldwide march that will continue to be a GLOBAL movement. Though the numbers are unclear, all seven continents — yes, including Antartica — participated in the march.

As reported by the New York Times, attendance in NYC was more than 400,000, according to Mayor Bill de Blasio's office. The St. Paul police issued official crowd count of 50,000-60,000. Boston was around 175,000 according to a Mayor spokeswoman. The Atlanta Police Department estimated about 60,000. Phoenix estimated 20,000 and the small town of Key West, population 25,000 of that 2,000 people marched. Chicago estimated 250,000 while the Associated Press reported that D.C.'s homeland security director said there was more than 500,000 that organizers told city officials to expect. But based on how it felt down there, I'm thinking it was way more!

But what's more important than the magnitude of January 21, 2017 is where do we go from here? What can we do to continue our efforts to ensure women's rights are indeed human rights?! I think Jen Psaki, former White House Communications Director, said it best, " The march shouldn't be a moment to rest and celebrate. It should be a warm up."

It's time to

call

your Congressmen and Congresswomen today and everyday forward.

This entry was posted in