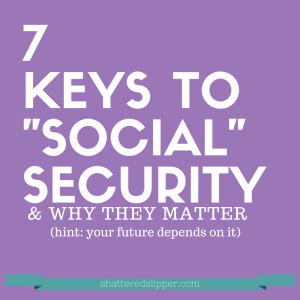 Today's teens have run rampant on the Internet with their shares and over shares through photos, mindless tweets and hormones. Oh…the hormones. But seeing what these teens share on their social networking sites is embarrassing to their older selves.
All I'm saying is I'm grateful that I joined the digital world in the early 2000s when the Internet was dial up, ("Mom, get off the phone I want to use the Internet!") AOL AIM was the new cool way to communicate with your friends because your razor phone didn't have texting, and Twitter just simply meant you were a "twit" x 2.
Unfortunately, teens don't have the luxury of Facebook being exclusive to the college crowd with those legit .edu emails, but instead they have the freedom of expression when and wherever they feel the urge to share. YAY FREEDOM! But as former first lady, Eleanor Roosevelt once said, "with great freedom comes great responsibility." Responsibility…that pesky trait that is thrust upon us (most of the time) with age. When I was a teen, I was carefree and the only thing I was "responsible" for was completing my homework on time, acing that test, being a good friend, and the occasional laundry load. Now, at an earlier age, teens are responsible for their adult future the moment they create their first online profile.
Social networks make sharing a feeling, thought or angst too easy. Have a feeling? Type it out or snapshot it and put it out into the world. BAMZINGO. Easy Peasy. No second thoughts or maybe even first thoughts needed. It's not like Facebook asks you, "are you sure you want to post this hateful message about Caroline to your timeline," before you post said hateful message. Sure, for some period of time there's a feeling of relief or a sense of pride and importance. Because today popularity is based on how many people "like" your selfie picture you just shared on Instagram, never mind the fact that many of your followers are trolls, bots or worse yet, sex offenders.
An article published in The Washington Post regarding how FLOTUS, Michele Obama, and how she is educating her daughters, Malia and Sasha, to navigate this Wild Wild Web era.
"I think they are [some] of the first kids in the White House growing up where everybody's got a cell phone and everybody's watching, Michele Obama said in a 2012 interview with women's magazine, iVillage.
"We just have to have real conversations even now, it's: 'You can't go off on somebody. You can't act bratty. You may be having a moment but somebody could use that moment and try to define you forever.'"
The "forever" part is what many teens (and even college coeds) skip over. Even if that angsty tweet included every shade of profanity is deleted, it's still there. The Library of Congress has it in their archives, seriously, (MWHAHA) and it can and will come back and rear its ugly truth when you're interviewing for your dream job. Because just as you are defining who you are IRL (in real life), with every posting, comment, or "like" you're defining who you are online—your persona.
With that, I give you 7 Keys to "Social" Security
1. Don't follow for the sake of acquiring more followers.
Quality over quantity, people. 
2. Avoid posting random thoughts that no one, including you, will understand tomorrow.
That's what a private journal is for after all, your private thoughts, complaints about friends, family, and boyfriend. 
3. Think. Think some more. Then Post.
As this becomes a more digital age, digital personas (whether true to your IRL persona)  will play a role in how you're viewed offline:  Future employers, college admissions,  significant others, etc. will care how you behave (or don't) online. 
4. Don't post for the sake of posting.
Post because what you're saying has a why! 
5. Don't have usernames like "faggotbaby" and  "nookiecookies".
Just don't, be more creative (a.k.a. less profane), or if you're not the creative type, simply go with your name or a version of it.
6. Refrain from posting, tweeting or retweeting images (even if you didn't take them) that could land you in jail.
"Valentine's day is coming up…" [insert photo of a heart-shaped candy box, but instead of chocolates it's clumps of fresh weed…]
Seriously, I found that in a teens feed! 
7. Sharing is caring.
Tell a friend that they're tweets about so-and-so "being a hoe" is not only online bullying, but also will show up again and again when they're application is sitting in the admissions office of their dream college or when they're on an interview for that dream job. 
Online, the future is now!
How are you protecting yourself, your siblings, friends, or for you parents out there, your children.

This entry was posted in